Answers to frequently asked questions about laminated benchtops and Adelaide City Benchtop services
1. What are the advantages of choosing a laminate benchtop?
Laminate is more versatile than many other materials and comes in a wide range of colours and styles. Laminate surfaces are easy to clean and resist staining and scratching and are sealed on the underside. Laminated bench-tops are less expensive to install and can be cut on site to allow for out of square walls including sink and cook tops.
2. Do you have colour samples?
Yes. And we encourage you not to make your colour choice based on a photo as it's not an accurate representation of the true colour. They are there to give you a starting point. Once you have chosen ACB as your supplier and paid your deposit we can come to your home with real laminate samples colours and profiles you can touch and spread around, or if you prefer visit the Laminex showroom at 163 Currie St. City.
3. Can we have the benchtops delivered at our preferred time?
Yes, we can also deliver on Saturday mornings.
4. Do you install stone tops?
No. Only laminated tops.
5. Do you offer a relaminated service?
No. Relaminating isn't feasible. In many cases re-laminating a bench-top costs more than a new bench-top.
6. Do you offer a warranty on your benchtops?
The Laminex group offers a 7 year warranty on normal wear and tear for new bench-tops.
7. What are the average turnaround times for delivery?
From time of deposit approximately 16 working days.
8. What is the average installation time for a benchtop?
The time of installation will be different on each project. Depending on the size it can take anywhere from 6 hours to 2 days.
9. How thick are new laminated bench-tops?
Standard post form and tight form are 33mm to 50mm. Square edge from 16mm to 39mm.
10. Is it hard to maintain laminate benchtop?
A damp cloth and an all-purpose cleaner will remove spills and greasy spots. (De-solv-it is a natural citrus base all purpose cleaner and smells great)
How to maintain a laminate benchtop
Maintaining a laminate benchtop is relatively straightforward. Laminate surfaces are designed to be low-maintenance, offering convenience to homeowners. Here are some key points regarding the maintenance of a laminate benchtop:
Cleaning: Regular cleaning of the laminate benchtop can be done using mild household cleaners or simply with warm soapy water. Avoid using abrasive cleaners or scouring pads that may scratch the surface. Additionally, promptly wiping up spills and stains can help prevent any potential discolouration.
Avoid Harsh Chemicals: It's important to refrain from using harsh chemicals, such as bleach or abrasive cleaners, as they can damage the laminate surface. Stick to gentle cleaning solutions that are safe for laminate materials.
Heat Resistance: While laminate benchtops are relatively heat resistant, it's recommended to use trivets or hot pads under hot cookware or appliances to prevent any potential damage. Avoid placing extremely hot items directly on the laminate surface for an extended period.
Avoid Cutting Directly: Laminate surfaces are generally durable; using a cutting board when chopping or slicing is advisable to prevent scratches on the benchtop. Sharp objects and knives may leave marks on the surface.
Prevention: Taking preventive measures can help maintain the appearance and longevity of your laminate benchtop. For example, using coasters or placemats under glasses or plates can prevent moisture from accumulating on the surface.
By following these basic maintenance practices, you can keep your laminate benchtop looking clean, fresh, and in excellent condition for an extended period. Laminate surfaces' inherent durability and stain resistance make them a popular choice for homeowners seeking an easy-to-maintain kitchen countertop option.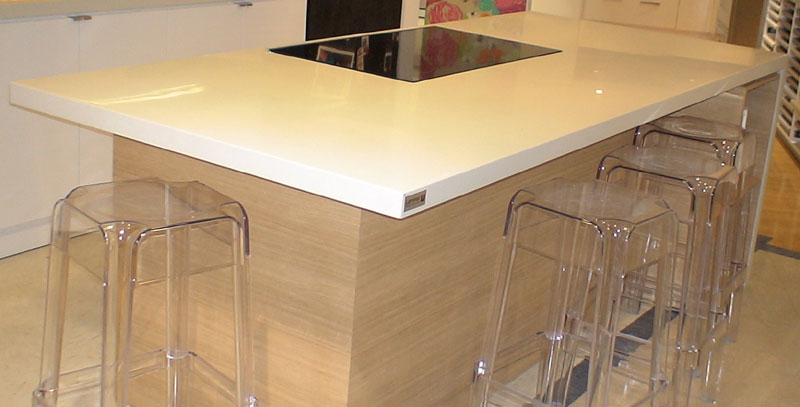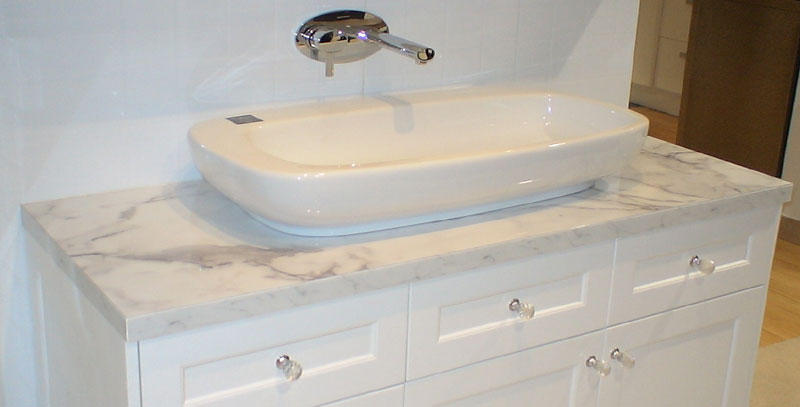 Contact Adelaide City Benchtops